Our Technology: Mechanical Recycling
In Europe, PET recycling is a relatively recent activity. PET, created by the petrochemical industry in the 1940s, has been gradually replacing PVC for use in water bottles since the 70s, reducing the weight of the bottles by almost a third and ensuring safe use for drinks. With the increase in PET waste, the need to create recycling chains became apparent.
How is PET food & beverages packaging recycled?
The recycling of PET packaging is done in a number of steps: collection, sorting, washing, shredding, transformation into plastic pellets and, finally, the reuse of these to produce new packaging.
Recycling starts with the collection of PET packaging, bottles, and containers, in conventional recycling bins or via deposit return schemes. The PET packaging is then separated from the rest of the collected waste at a sorting facility, then compressed into bales to be transported to washing and shredding plants. Several washing and sorting stages (mechanical and optical) are needed to rid it of any unwanted material. The shredding stage results in PET flakes that are sorted by colour: clear, blue, light blue and mixed colours. To make the plastic ready for reuse, it goes through an extrusion phase, where the flakes are melted at a high temperature then cooled down and cut into pellets, then a phase of polycondensation at a high temperature. At the end of the process, the pellets are suitable for food contact applications. Packaging manufacturers then buy these recycled PET pellets for use in the production of new packaging using injection moulding, injection blow moulding or thermoforming processes. This new packaging enters the market and could end up supplying the recycling chain again in the future.
Aloxe has built up over 20 years' worth of expertise in mechanical recycling and produces food-grade recycled PET
Aloxe uses the most advanced technology on the market for the mechanical recycling of PET plastic. Our production lines give us food-grade recycled PET, for which we hold EFSA (European Food Safety Authority) scientific opinion.
Recycled PET flakes: light blue, mixed colours, clear and blue.
Our PET recycling process takes the raw material consisting of shredded and washed PET bottles, collected through recycling chains in the form of flakes, and transforms it. At the end of the process, we are left with pellets that will then be used by converters to manufacture new packaging.
When recycled bottles (e.g., mineral water or fizzy beverage bottles) are used to make new bottles, we refer to this as 'bottle-to-bottle' recycling. Recycled PET can also be used for many other applications such as food trays and cosmetic containers.
Our Recycling Process
It starts with us receiving, inspecting, and mixing the flakes purchased from our suppliers, who must comply with strict specifications regarding mechanical and chemical properties.


The material is then ready for extrusion; we melt it so that we can pass it through wire mesh screens to eliminate any impurities. Reaching a temperature of 285°C, the molten and pressurised PET then passes through a filter.


Then comes pelletisation, where the material is cut by blades, while also being exposed to a constant supply of water to cool it down. At this point, the PET is in the form of pellets but is not yet suitable for food contact applications. This is called 'amorphous' material.


The final stage is decontamination using Solid-State Polycondensation or SSP; the pellets are purified for 9 hours at 175°C. This essential step makes them suitable for food contact applications.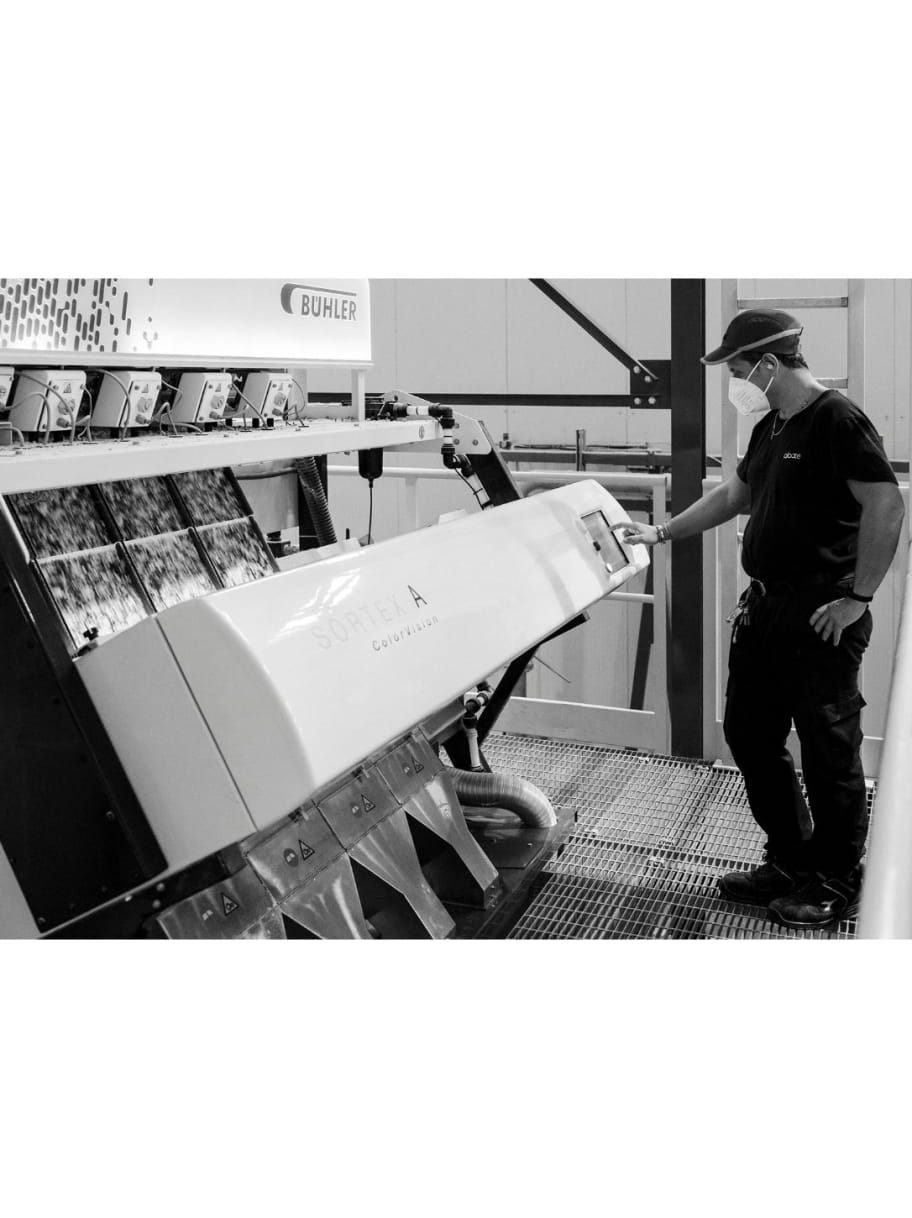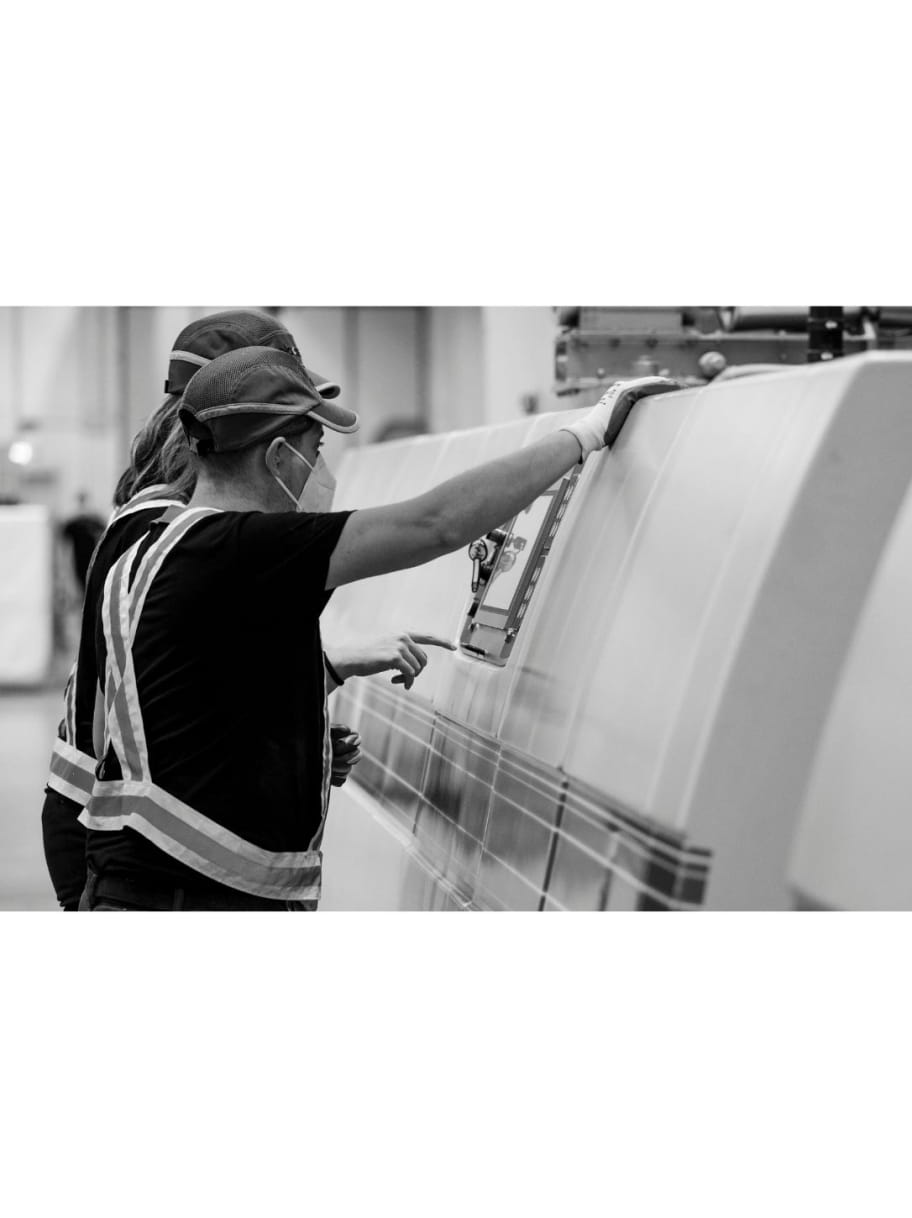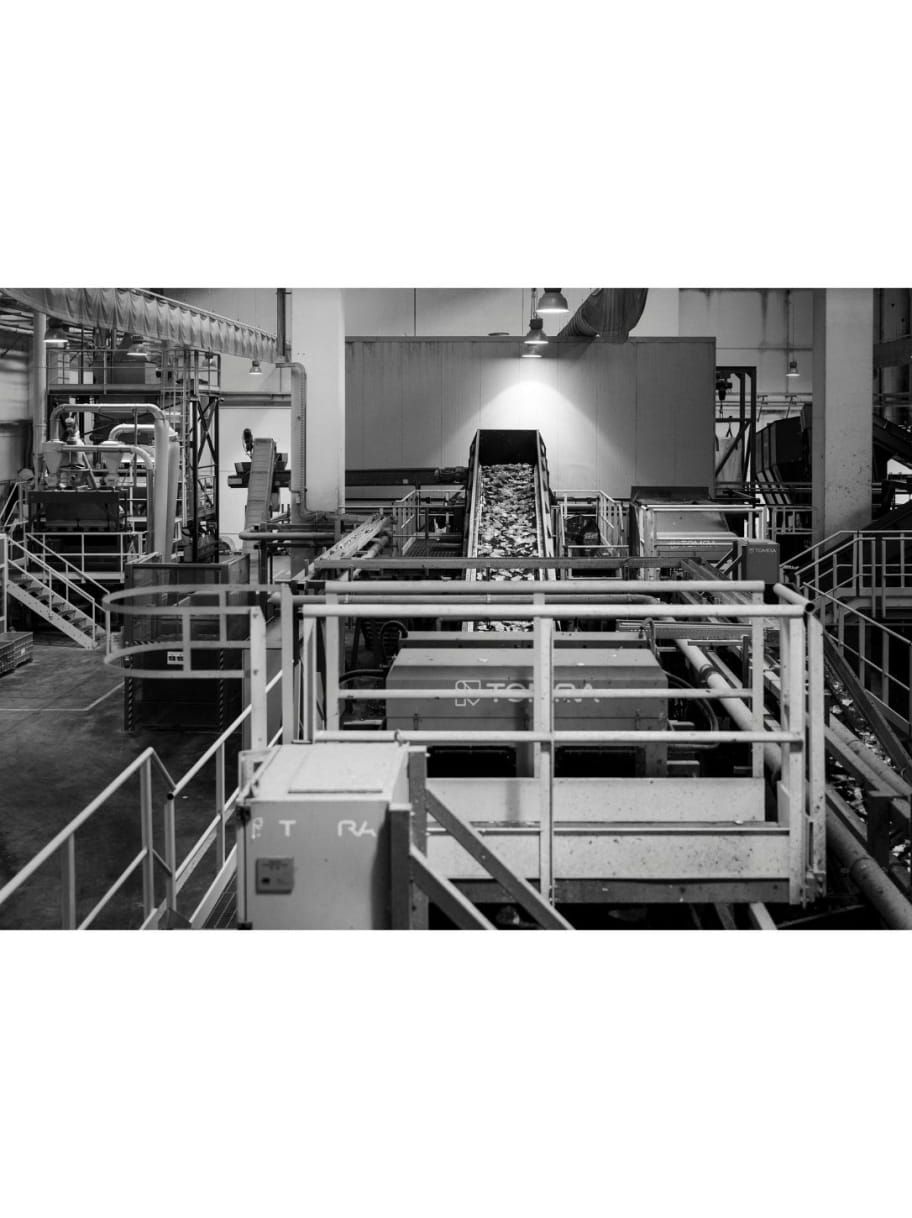 Our extensive knowledge of production methods, the fruit of 20 years of work and constant improvement, has enabled Aloxe to become a major player recognised in Europe for its expertise. The purity of our products is constantly tested and controlled internally, in our lab but also through the experience and expertise of everyone in our team.